Are you looking for All Season Tyres for your vehicle?
All-season car tyres provide the benefits of both its summer and winter counterparts. Also known as all-weather tyres, they are manufactured and designed with features borrowed from its season-specific cousins.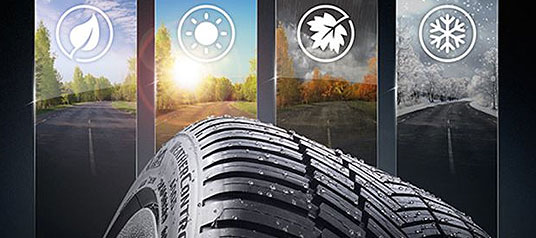 For instance, the tread depth on all-season tyres is moderate; neither short like summer variants nor deep such as its winter counterpart.
If you are planning to get a set of all season tyres Brighouse, you have come to the right place. At PSM Tyres and Retail Centre, we stock an extensive array of all-season tyres.
You can find tyres from brands like Continental, Bridgestone, and Michelin with us. Our inventory also comprises a selection of budget tyres from companies like Davanti and Landsail. This way, we ensure that car owners with diverse budgetary requirements in the Brighouse neighbourhood can find their pick with us.
What are the advantages of all-season tyres?
One advantage of mounting all-season tyres on your vehicle is you won't have to change them with every season. You can use them through summer and mild winter conditions. This feature also results in another benefit of this tyre type: logistics. With just one set of tyres for all weathers, you do not need storage space for an extra set of car tyres Brighouse.
Can all-season tyres fall short?
Since all-season tyres are of hybrid design and make, it involves some degree of compromise. If you are using a season-specific tyre, then you may notice that the sharpness in performance is not as pronounced when you make the switch to all season tyres Brighouse. Moreover, in extreme winter conditions, all-season tyres might be at their limits.
However, despite these limitations, an all-season tyre set is worth your investment if your yearly mileage is low. If you plan to drive around town or use your vehicle mostly for commuting, then this may do the job for you.
What are some of the best all-season tyres?
If you are planning to buy all season tyres Brighouse, then let us help you with a selection of the best ones you can find with us:
Continental All Season Contact
This leading German tyre manufacturer has delivered some of the best tyres ever since its inception. And the All Season Contact is not one to disappoint either. You can expect trustable grip, driving efficiency, and braking performance throughout the year with this tyre model.
Michelin is a brand to reckon with when it comes to tyres. You can find that the Cross Climate also lives up to the name of this manufacturer. Experience superior mobility and safety year-round with its unique mix of compounds and tread pattern.
Bridgestone Weather Control A005
This product bespeaks why Bridgestone is the world's leading tyre manufacturer. It carries the EU label Grade A for wet grip, delivers exceptional performance on mildly snowy tarmacs, and provides superior mileage.
You can find these and more tyres in our online catalogue. To get started, provide your car's registration number or the tyre size you need. Book your tyres online, and get them fitted the next day or any other time, as per your convenience, at our facility.
With PSM Tyres and Retail Centre, you no longer need to look up "tyres near me".