Are you looking for Wheel Alignment for your vehicle?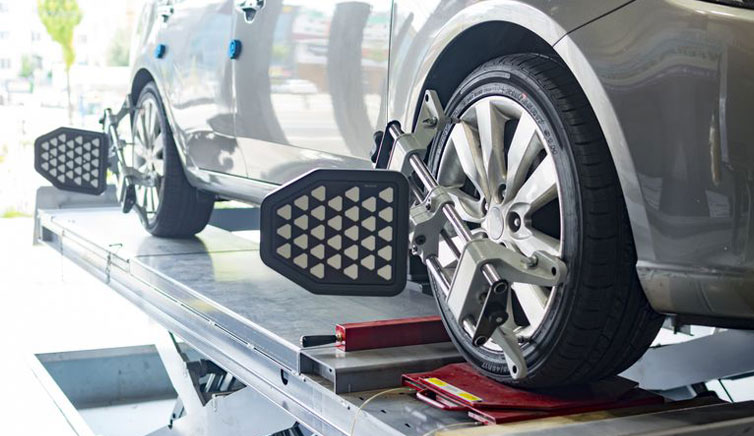 Misaligned wheels put stress on your car's suspension and can potentially damage various other internal components. Moreover, such misalignments compromise driving stability, especially at high speeds, and increase the risks of accident.
Therefore, it is advised to reach a professional auto garage for accurate wheel alignment Brighouse.
For this purpose and many others, PSM Tyres and Repair Centre is a renowned service station in Brighouse. With years of experience, our trained technicians can adjust your car's wheel angles (toe, camber and caster) appropriately.
If you are looking for optimised driving stability and enhance overall handling performance, turn to our wheel alignment garage Brighouse.
What is wheel alignment? How can we help?
Accurate wheel alignment is necessary to adjust your car wheels as per the original angles. It ensures proper road contact, ideal mileage and longer tyre life.
At PSM Tyres and Repair Centre, our technicians provide efficient wheel alignment using state-of-the-art technology. The adjustment is made with respect to the following three angles:
This refers to the angle of the wheels when viewed from the front of the vehicle. If you observe too much outward or inward tilt, it indicates positive and negative camber respectively and needs accurate wheel balancing and alignment from a recognised workshop.
Toe alignment refers to the extent to which your car tyres turn inward or outwards when observed from a birds-eye view. The technicians at our facility adjust the toe angles to make your car wheels parallel to each other.
This angle denotes the slope of the steering axis fitted with the wheels. A properly adjusted camber angle is critical for enhanced stability, steering and cornering.
Warning signs of misaligned wheels
We recommend you to opt for routine wheel alignment checks even if there is no apparent issue.
In case you notice any of the indicators of wheel misalignment as stated below, do not think twice before reaching our garage for wheel alignment Brighouse.
If you observe unusual tyre wear - excessive wear on either the inside edge or the outer edges of your car tyres - or if one tyre has worn out more than the other, it indicates wheel misalignment. This drastically shortens your car tyres' lifespan and heightens the risks of accidents as well.
Does the steering wheel vibrate when you drive at high speed? This, again, is a result of misaligned wheel angles and can eventually lead to tyre blowout as well. Further, it can significantly hamper your vehicle's suspension system.
Directional vehicle pulls
If your vehicle automatically drifts to a one side, it is time to seek professional assistance for checking your car's wheel alignment.
Additionally, a noisy steering and squealing tyres also reflect a fault with your vehicle's wheel angles.
Get in touch with us
If your vehicle exhibits any of these problems, there is no need to fret as PSM Tyres and Repair Centre has got you covered.
Stop your search for a reliable "wheel alignment garage near me", and allow us to help.
Whether you drive a high-performance sports car or a passenger sedan, we have the necessary equipment to align the wheels of all vehicles. Hence, dial us on 01484 712944 or 07845 767188 to book a service. You can also drive to our unit at your convenience.